Corpse Bride, often referred to as Tim Burton's Corpse Bride, is a 2005 British-American stop-motion-animated musical fantasy film directed by Mike Johnson and Tim Burton. The plot is set in a fictional Victorian era village in Europe. Johnny Depp led the cast as the voice of Victor, while Helena Bonham Carter voiced Emily, the title character. Corpse Bride is the third stop-motion feature film produced by Burton and the first directed by him (the previous two films, The Nightmare Before Christmas and James and the Giant Peach, were directed by Henry Selick). This is also the first stop-motion feature from Burton distributed by Warner Bros. Pictures.
The film was nominated for the 78th Academy Awards for Best Animated Feature, but lost to Wallace & Gromit: The Curse of the Were-Rabbit, which also starred Bonham Carter. It was shot with Canon EOS-1D Mark II digital SLRs, rather than the 35mm film cameras used for Burton's previous stop-motion film The Nightmare Before Christmas.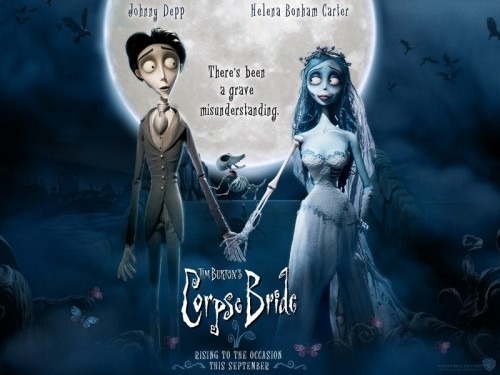 In an unspecified Victorian-era village somewhere in Europe, Victor Van Dort (Johnny Depp
), the son of nouveau riche fish merchants, and Victoria Everglot (Emily Watson), the neglected daughter of hateful aristocrats, are preparing for their arranged marriage, which will raise the social class of Victor's parents and restore the wealth of Victoria's penniless family. Both have concerns about marrying someone they do not know, but upon meeting for the first time, they fall for each other. After the shy, Victor ruins the wedding rehearsal and is scolded by Pastor Galswells (Christopher Lee), he flees and practices his wedding vows in the nearby forest, placing the wedding ring
on a nearby upturned tree root.
The root turns out to be the finger of a murdered woman in a tattered bridal gown, who rises from the grave claiming that she is now Victor's wife. After fainting, Victor wakes up and finds out he was spirited away to the surprisingly festive Land of the Dead. The bewildered Victor learns the story of how Emily (Helena Bonham Carter
), his new bride, was murdered years ago by an unknown criminal on the night of her secret elopement. Emily, as a wedding gift, reunites Victor with his long-dead dog, Scraps. Meanwhile, Victoria's parents hear that Victor has been seen in another woman's arms, and become suspicious.
Wanting to reunite with Victoria, Victor tricks Emily into taking him back to the Land of the Living by pretending he wants her to meet his parents. She agrees to this and takes him to see Elder Gutknecht (Michael Gough), the kindly ruler of the underworld, to send him and Emily temporarily to the Land of the Living. Once back home, Victor asks Emily to wait in the forest while he rushes off to see Victoria and confess his wish to marry her as soon as possible, to which she gladly returns his feelings. Just as they are about to share a kiss, Emily soon arrives and sees the two of them together and, feeling betrayed and hurt, angrily drags Victor back to the Land of the Dead. Victoria tells her parents that Victor has been forcibly wed to a dead woman, but they believe she has lost her mind and lock her up in her bedroom.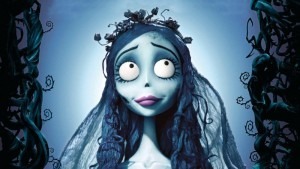 She escapes her room by window and rushes to Galswells to find a way to help Victor, but fails. With Victor gone, Victoria's parents decide to marry her off to a presumably wealthy newcomer in town named Lord Barkis Bittern (Richard E. Grant), who appeared at the wedding rehearsal, against her will. Emily is heartbroken by Victor's deception. Victor, however, apologizes for lying to her, and the two reconcile while playing the piano together. The piano scene is perhaps once of my favorites in the entire movie followed closely by the butterfly scene which you will have to watch the movie to find out about.
If you would like to get a quick glimpse of Corpse Bride, you can watch the trailer here. I am sure you will love it and leave you with smiles and maybe a few happy tears.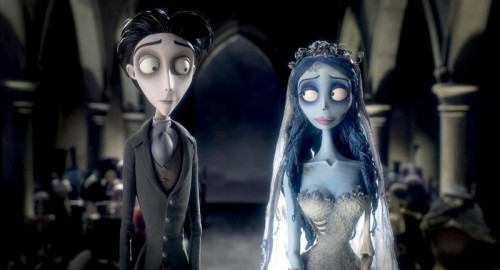 Have you ever seen Corpse Bride? Do you have a favorite Tim Burton movie? Click here to leave a comment and share your opinion and experience. Would love to hear from you.
If you liked this or any other posts you read on 1KSmiles,
please share it with your friends using the Shareaholic buttons below.
And feel free to 'like' us on our Facebook page.
Buy Tim Burton's Corpse Bride on Blu-ray at Amazon today!