The best part of New Year's Day is definitely the Tournament of Roses Parade floats.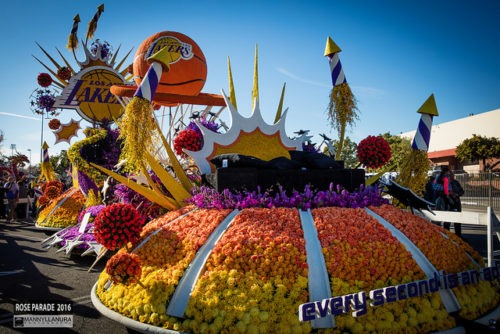 Floats for the New Year's Day Tournament of Roses Parade have evolved from horse carriages decorated with flowers to the often large and animated creations they are today. The floats are required to be covered with plant material, living or dead, so that could include roses or tree bark. Originally the Tournament of Roses Parade floats were built and decorated solely by volunteers from sponsoring communities. These day, most of the floats are built by professional float building companies, and take nearly a year to construct.
I grew up in Burbank, California and they are one of the cities that has a float. The City of Burbank float is decorated by volunteers and is truly a community effort. Since Burbank is home to Warner Bros and Disney and other production companies, usually the City of Burbank float is animated or whimsical.
I prefer the large and beautiful ones like this: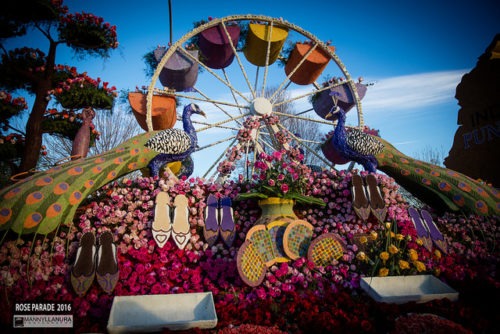 Check out the detail: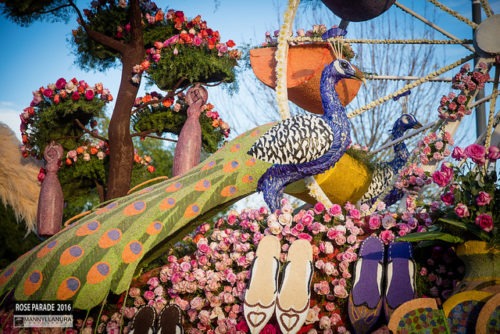 Remember, all the floats in the Tournament of Roses Parade has to be covered in plant material…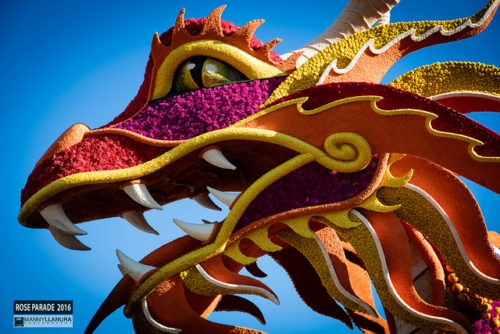 When I was in high school I volunteered to work on the City of Burbank float and spent a whole week down at the warehouse. They saw my passion and quickly promoted me to running the flower distribution shack where decorators would come to be and I would give them the roses or carnations or seeds or whatever they required to decorate the float. As a 'reward' for my efforts I was invited to travel over night on New Year's Eve with the float on its painfully slow 12 mile voyage from Burbank to Pasadena where the hold the Tournament of Roses Parade is held. They in the wee hours of January 1 we repaired any damage that happened along the trip and did final touch ups before sending the float off to join the other Tournament of Roses Parade floats.
What an experience. It really warmed my…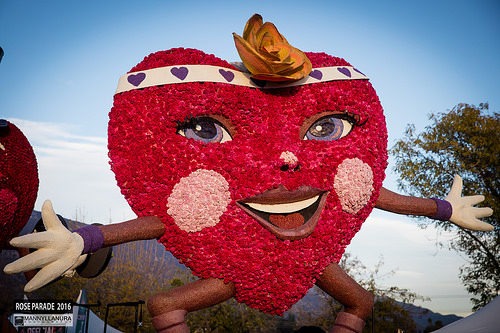 …to be involved in such an experience.
If I lived in Burbank or Downey, South Pasadena, Sierra Madre, or La Cañada Flintridge where they build their own Tournament of Roses Parade floats, perhaps I would volunteer some time and put a big smile on my face.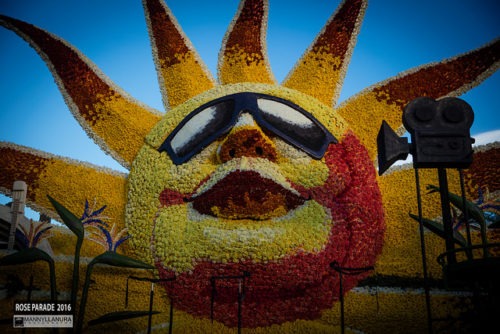 Have you ever been to the Tournament of Roses Parade? Or worked on a Tournament of Roses Parade float? Leave a comment and share your opinion and experience. Would love to hear from you.
If you liked this or any other posts you read on 1KSmiles,
please share it with your friends using the Shareaholic buttons below.
And feel free to 'like' us on our Facebook page.