Bowling is one of the most famous and oldest games in the world that dates far back to 3200 BC. A British anthropologist Sir Flinders Petrie discovered objects in a child's grave in Egypt. The objects were a primitive form of bowling different from the bowling ball and ten pins of today. That gives you an idea of how old the sport is, almost 5000 years!
Throughout the year's other games came out that would resemble bowling such as Bocce ball, ninepin, and British lawn bowling. English and Dutch immigrants brought over their own version to the United States where the name "Bowling" first originated which is in a book written by Washington Irving in 1812 who tells about the times of waking up to the sound of "crashing ninepins."
The history of the sport grew substantially in the United States where the heart of New York quickly adopted the game. The "Bowling Green" is still located in Manhattan New York today. Once the game became popular in the US, it rapidly became a betting game where the State of Connecticut placed a ban on all ninepin games in 1841. Due to the massive popularity of the game, it was brought back to enjoy.
The equipment for bowling was the first rubber ball designed in 1905 that was named "Evertrue." The Brunswick Corporation created a ball called "Mineralite," in 1914 with other variations of the bowling ball soon to follow until it was standardized.
In 1951, the use of a "Pinboy" that would collect the pins and set them up was eliminated, and the automatic "Pinspotter" is born in 1952 by the America Machine and Foundry Company.
Soon after the innovations were released the media quickly embraced the sport in the 1950s by showcasing it on NBC with its "Championship Bowling," showing full coverage where contestants competed for cash prizes which then the game took off.
We love to go bowling here and do so whenever we can. Especially at the Airstream Trailor lanes at the Silverton Hotel and Casino in Las Vegas. (That's right, they actually converted an Airstream trailor into a mini bowling alley. Check it out here. Super smiles!)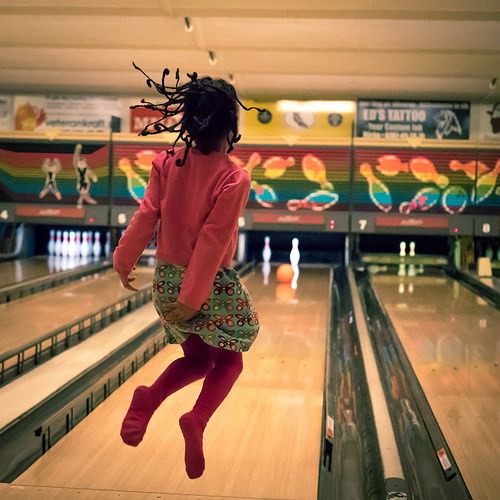 Have you ever been bowling? What was your experience? Leave a comment and share your opinion and experience. Would love to hear from you.
If you liked this or any other posts you read on 1KSmiles,
please share it with your friends using the Shareaholic buttons below.
And feel free to 'like' us on our Facebook page.