Did you ever go to the carnival and look at yourself in the funhouse mirror? I used to love to do that. I could distort my image in so many ways it provided me tons of smiles and fond memories.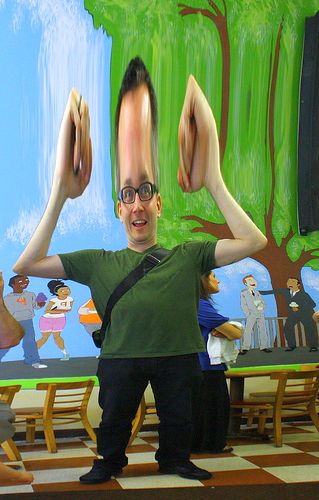 These funhouse mirrors were found in the…wait for it…funhouse at the carnival. A funhouse or fun house is an amusement facility found on amusement park and funfair midways in which patrons encounter and actively interact with various devices designed to surprise, challenge, and amuse the visitor. The funhouse used to be these large freestanding buildings but these days they are generally built into a tractor-trailer and fold open at their stop on the carnival circuit. They are basically walk-throughs, where patrons followed a set path all the way through and emerge back on the midway a few minutes later. Still they have several fun things in the funhouse. They may have a large slide or a mirror maze or busts of air coming from the floor or wall. I remember one where they had a floor that spun around like a giant record making it hard to walk through the funhouse. Times where different then. A simple ankle twisting was not such a big deal. Like Bob Dylan said, "The times they are a changin'."
If you saw the movie 'Grease', you may remember the end number, "You're the One That I Want". It takes place in a real carnival funhouse.
The one thing they all seemed to have was a funhouse mirror or sometimes several different ones. They would make you small or tall or fat or skinny or sometimes a combination of different shapes.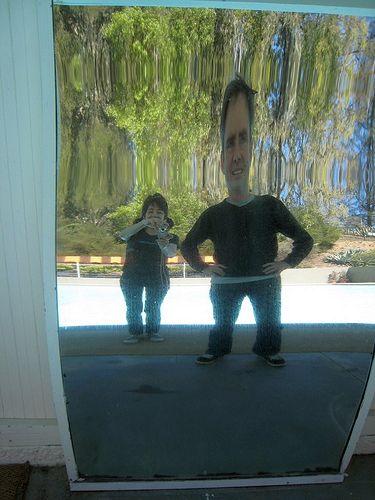 What are these mirrors? How do they work? According to Learner, funhouse mirrors have gentle curves, one is concave and the other is convex. Concave mirrors make you look taller, and convex mirrors make you look shorter. Then you can even combine both convex and concave mirrors to make a super fun funhouse mirror. So basically, instead of a normal plane mirror that reflects a perfect mirror image, funhouse mirrors, or to use their proper name, distorting mirrors are curved mirrors, often using convex and concave sections to achieve the distorted effect. Cool huh?
If you would like to make your own funhouse mirror, here are some instructions from Lowes. If you would prefer to buy one, they have them at FunHouse Mirrors and Carnival Mirror.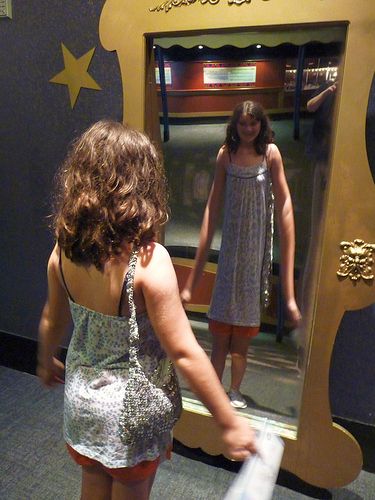 Have you ever seen yourself in a funhouse mirror? Share your thoughts in the comments. Would love to hear from you.
If you liked this or any other posts you read on 1KSmiles, please share it with your friends. And feel free to 'like' us on our Facebook page.