Do you remember the drive in movies? Seems like there are not many around these days. For you kids out there, the drive in movies has a large outdoor movie screen, a projection booth, a building for a concession stand and a large parking area for cars. Within this enclosed area, customers can view movies from the privacy and comfort of their automobiles. According to my parents and some other older folks I know, it seems the teenagers would go to these movies but not actually watch the movie. I have no idea what else they were doing there then. Can someone please clue me in on this?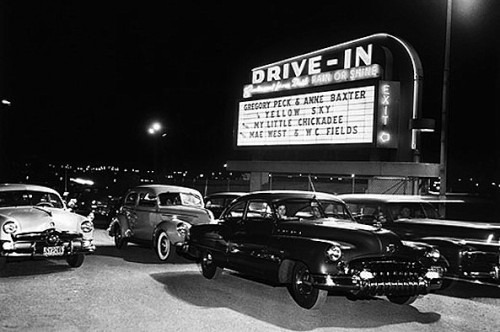 Originally, a drive in movie's sound was provided by speakers on the screen and later by a big bulky speaker hung from the window of each car. The speaker was attached to a pole you drove the car up next to. I was always worried the speaker would be too heavy for the glass window. Later they used the less damage-prone method of broadcasting the sound at a low output power on AM or FM radio which you could tune in inside your car. This was supposed to also make the sound better depending on your car's stereo system. I'll tell you though, I used to have a stereo inside my car that was worth, well, it was pretty high end and I could never get great sound at the theater I would go to.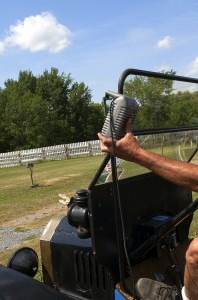 The drive in movies theater was invented by Richard M. Hollingshead, Jr. In 1932, Hollingshead conducted tests in his driveway at 212 Thomas Avenue in Riverton, New Jersey. He nailed a screen to trees in his backyard and set a 1928 Kodak projector on the hood of his car and put a radio behind the screen so he could test different sound levels while inside his car with his windows down and up. Following these experiments on August 6, 1932 he applied for a patent of his invention and was awarded U.S. Patent 1,909,537 on May 16, 1933.
He wasted no time. Hollingshead's drive in movies theater opened in Pennsauken, New Jersey on June 6, 1933. It quickly caught on in other states.
The drive in movies peak popularity came in the late 1950s and early 1960s, with some 4,000 drive in movies across the United States. It was good in that a family with a baby could bring their child along while watching a movie. A major disadvantage for the drive in movies is showings can only begin at twilight seriously limiting revenue. I remember the drive in near me would have a swap meet on Saturday and Sunday afternoon and church services on Sunday morning. There were attempts to create suitable conditions for daylight viewing such as large tent structures, but nothing viable was developed. That is until Amazing Johnathan came along and built a drive in movies theater in a warehouse using some of his classic cars.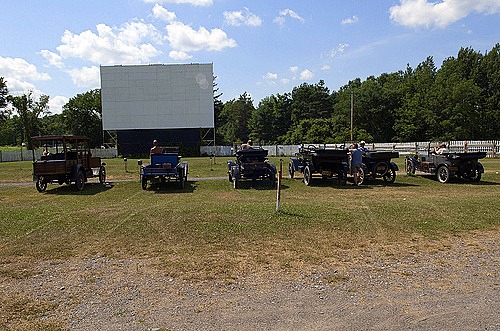 I remember going to the drive in many times in my youth. There was a play ground with swings and a sand pit and slides and saw horses. I guess times have changed though. In Las Vegas, a city of over two million residents, there is only one drive in movies theater. (Not counting Amazing Johnathan's but that one is private and by invitation only of which, mine must have got lost in the mail as I have yet to receive it.)
Sadly the drive in movies seem to be going away. I will probably never get a chance to see a James Bond film at a drive in movies. Thanks to the economics of real estate making the large property areas increasingly expensive, widespread adoption of daylight saving time, the advent of color televisions, VCRs and video rentals led to a sharp decline in the drive in movies popularity. Not to mention weather issues. In many areas the drive in movies can only play in the summer due to rain and snow but in Las Vegas temperatures can be 100*F at 2am in the summertime. I don't care how good your car's air conditioning system is. Me? I will go indoors at that point.
By 2013, the drive ins movies comprised only 1.5 percent of movie screens in the United States while at the industry's height, 25 percent of the nation's movie screens had been in a drive in.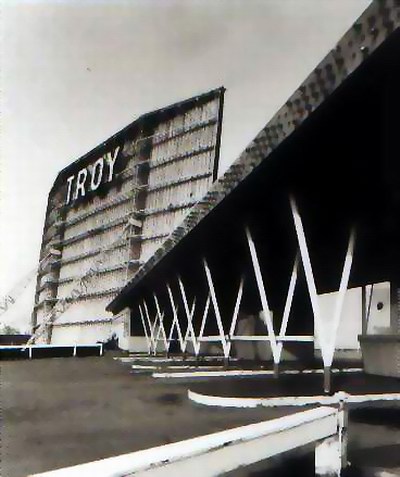 Still there are some times in the spring and early summer I can catch a drive in. And until my invitation from Amazing Johnathan arrives… I have yet to go to the drive in movies with Brenna. Maybe there will be a good movie playing. Or maybe a not good movie. Either way, I will be all smiles.
Read about Amazing Johnathan and his drive in movies theater here in an article from a few years ago.
Have you been to the drive in movies lately? Or what are your memories from visits in the past? Tell us about it. We would love to hear from you.
For more information about drive in movies click here and here.
PS- Amazing Johnathan is retiring very soon. By all means, if you get a chance to see him before the end of 2014 do so. He is perhaps the greatest comedy magician of all time. And no I am not just sucking up. I have had the privilege of sitting in his audience no less than a half dozen times laughing so hard I cried and my side ached. He is truly Amazing.