As I get older and mature both physically and intellectually, I find myself becoming more aware of the environment and how we as people have squandered some of our precious resources. If we do not intervene, like we have with the panda bear, we will soon find ourselves without thing such as water or electricity. So what am I doing to help save the world?
I am progressively changing out my incandescent light bulbs with CFLs.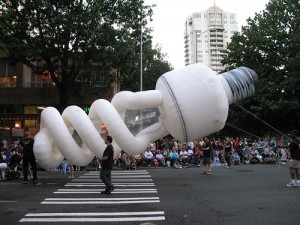 No, I am not talking about the Canadian Football League. I am talking about compact fluorescent lightbulbs or CFL. These are those bulbs that look like curley fries or a pig's tail as opposed to those round bulbs Thomas Edison invented way back when. If you are not familiar with these, and you live in America, read on and get used to them because in 2012 the Department of Energy required manufacturers to stop producing and importing 100-watt incandescent bulbs followed by 75-watt bulbs in 2013 and 60 and 40-watt bulbs in 2014. I was recently at Home Depot and did not see any incandescent bulbs on the shelves at all.
So what is a CFL lightbulb and what makes them so special? When you compare the CFL to general-service incandescent lamps giving the same amount of visible light, the CFL will use one-fifth to one-third the electric power and should last eight to fifteen times longer. Although a CFL currently has a slightly higher purchase price than an incandescent lamp a CFL can save over five times its purchase price in electricity costs over the lamp's lifetime.
This works out for several reasons. A typical 60-watt incandescent bulb costs what? $1.50? It will last about 1,200 hours. I recently bought 6 CFL light bulbs for something like $13 which works out to just over $2 per. But get this- these bulbs put off the equivelent of 100-watts but only consume 23-watts of energy so I am using 37-watts less and getting a brighter light with my CFL bulb plus the CFL will last for about 10,000 hours. Seems like a no brainer to me.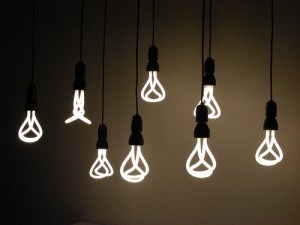 Today I am only talking about CFL lightbulbs. As technology advances and prices come down I believe LED lights will be even better saving energy and resources we are already stretching thin. LED bulbs are more power-efficient than compact fluorescent bulbs and offer lifespans of 30,000 or more hours. In fact I hear that at some Wal-Mart locations prices for LED bulbs have been under $1. The LED lamp market is projected to grow more than 12-fold over the next decade, from $2 billion in the beginning of 2014 to $25 billion in 2023.
Saving money and saving the world. Two ideas I can definitely get behind and ideas that certainly make me smile.
It is a bright idea each of us should embrace.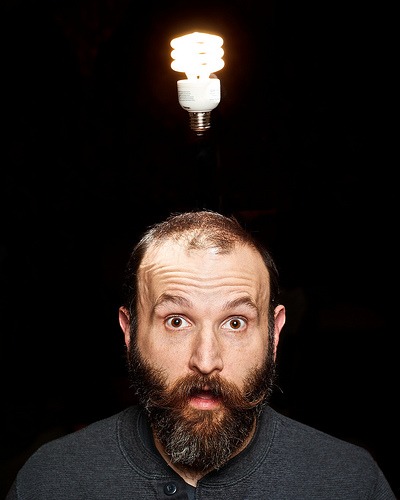 Are you using CFL or LED lights yet? Which do you prefer? Let us know in the comments.