Generally I am not a big sports fan but one sport I can not get enough of is Formula 1.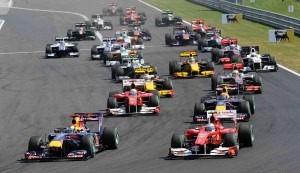 Formula 1, also known as Formula One and F1 is the highest class of single-seat auto racing sanctioned by the Fédération Internationale de l'Automobile (FIA). The Formula 1 season consists of a series of races, known as Grands Prix, held throughout the world both on purpose-built circuits and public roads with Monaco in Monte Carlo being the shining example. The results of each race are evaluated using a points system which determines two annual World Championships, one for the best driver and one for the constructors such as Red Bull, Mercedes or my favorite- Ferrari.
Formula 1 racing cars are the fastest road course racing cars in the world. (And some of the prettiest. Especially the Ferraris and their Ferrari red color.) Formula 1 cars race at speeds of up to 330 km/h (210 mph) with engines currently limited in performance to a maximum of 15,000 RPM. The cars are capable of lateral acceleration in excess of 5 Gs in corners. For this reason Formula 1 safety is a huge consideration.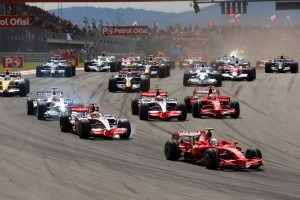 Even though Europe is the traditional base of Formula 1, and hosts about half of each year's races, the sport has expanded significantly in recent years and a number of Grands Prix are held on other continents including Mexico, Russia, Asia and the United States. Grand Prix racing began in 1906 and became the most popular type of auto racing in the second half of the twentieth century. The Formula One Group is the legal holder of the commercial rights with annual spending totaling billions of US dollars. Formula 1 drivers are some of the highest paid athletes in the world.
The cars are so amazing and the way these Formula 1 drivers handle them is incredible. Some say these drivers are just driving cars and question how hard it can be. I argue these drivers are some of the most fit athletes in sport. Recently a driver survived, and in fact walked away from, a crash measured at over 30 Gs. The extreme heat found in a Formula One cockpit, especially at the hotter races of the series, also puts vast strain on the body whereas drivers can sweat off anything up to 3kg of their body weight during the course of a race. As far as nutrition, most Formula 1 drivers diet in much the same way as track and field athletes do. During race weekends most drivers can be seen eating pasta or other carbohydrate rich foods to provide energy and give the all-important stamina for the race itself. The physical endurance required to drive a Formula One race is not dissimilar to that required to run a marathon.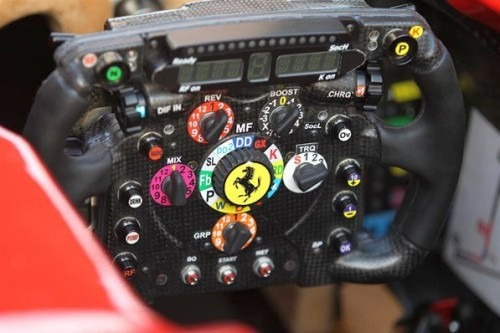 Along with the drivers and their abilities plus the cars themselves, strategy plays a big role in Formula 1 racing. Team managers analyze data such as weather conditions, the likelihood of overtaking on a particular track, the length of the pit lane and even the chances of an accident all come into play when deciding strategy.
Check out this video of David Coulthard doing donuts in a Red Bull F1 car on Burj Al Arab helipad.
Formula 1 is super exciting and always makes me smile.
(You know how they make coloring books for adults now? Someone should make a Formula 1 coloring book. I would buy one or two and a new pack of Crayola crayons and get off to the races!)
Follow Formula 1 racing at Planet F1 and Formula1.com and BBC.com.
Do you like Formula 1? Have you been to a race? Share your thoughts in the comments.
If you liked this or any other posts you read on 1KSmiles, please share it with your friends. And feel free to 'like' us on our Facebook page.