(I know I have a lot of readers who are vegetarian or perhaps vegan and for you folks maybe you could skip this one. Or better yet, read on and leave a comment anyway. Would love to hear from you and everyone is always welcome to leave friendly comments. That being said…)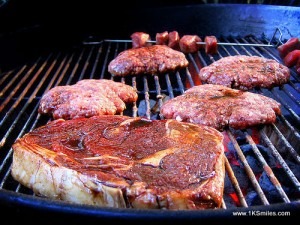 As winter has set in on most of the country, and around half the world for that matter, our thoughts of warm sunshine and grilling our meals over an open flame become awash with thoughts of snow, puffy jackets and long, cold days. Unless of course you are in the southern hemisphere and then it is the opposite. Maybe it's time for that one last hurrah in your part of the country; maybe it's time to fire up the BBQ, throw on a nice porterhouse and grab a cold beer. Wether northern or southern hemisphere, winter or summer, I can feel the smiles already as people are reading this and I am writing it. The taste of a perfectly cooked steak is something that should be savored and, no matter what time of year or type of weather, should be enjoyed by everyone.
If you do live in one of those parts of the world where winter comes early and being outside is simply not possible, you can cook a steak indoors. It is just not as much fun.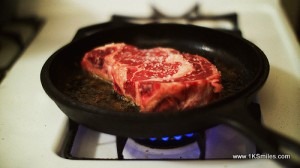 Whether you cook it yourself or are dining out at your favorite steakhouse, when a perfectly cooked steak, I prefer mine very rare (in fact, just thrown on a plate and walked slowly through a very warm kitchen will do), arrives at your table, a perma-grin instantly appears on your face and does not leave until long after dinner is over and you have returned home satisfied and full.
I realize that people are different and they all like their steaks cooked differently. To each his own, I believe is the phrase, and no matter how you enjoy your steak, the only right way to cook it, is the way you like it. Don't fall for the new age, cook it slowly, let it rest and then cook it again methods. If you like steak and you like the way you, or your favorite chef cooks it, enjoy. You will still be enjoying an incredible meal that will end with a satisfying smile across you face.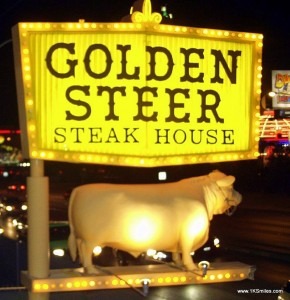 From New York Strips and T-Bones, to Flat Iron sirloins and expensive bone-in filets, there is a wide range of steaks for meat lovers to choose from. I have a tip for the true steak fans out there who love meat of all kinds; get some friends together and find a local churrascaria to have dinner at. If you want to talk about 1,000 smiles, eat dinner there and you will be treated to swords full of various meats, seared, cooked perfectly and brought right to your table still sizzling. It's a gastronomical treat for all of the senses. We have a few of these types of places in Las Vegas yet if I am in the mood for a steak dinner with a single variety of steak I will venture over to The Golden Steer. Old school Vegas style. If it was good enough for Elvis, Frank Sinatra and the boys in the Rat pack as well as 'The Duke' John Wayne, well, then it is good enough for me.
Now back to that perfectly cooked steak; how do you like yours cooked? What's a perfect steak in your eyes and what brings a smile to your face? Share your thoughts in the comments. Would love to hear from you.
If you liked this or any other posts you read on 1KSmiles, please share it with your friends using the Shareaholic buttons below.
And feel free to 'like' us on our Facebook page.
Have I got you in the mood for a perfectly cooked steak?
Get some Omaha steak here on Amazon
now.