Next to sitting and looking at a beautiful koi pond, not much more is relaxing after a hard day than sitting in the hot tub. Now we have to be careful and clear in our terminology here because not all hot tubs are Jacuzzi. I do not know who makes mine so I will just call it a hot tub. See around 1900, seven brothers named Jacuzzi immigrated to the United States from Pordenone, Friuli, Italy. They were all very crafty and industrious as some of the brothers designed and manufactured aircraft propellers and then hydraulic aircraft pumps then on to the manufacture of a new kind of deep well agricultural pump. Candido Jacuzzi developed a submersible bathtub pump for his son Kenneth to give his son, who had developed rheumatoid arthritis, soothing whirlpool treatments in the tub at home.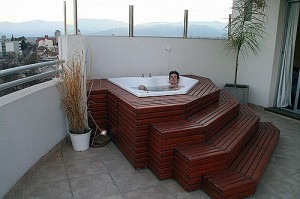 In 1955, the firm decided to market the pump and dubbed it the "J-300", as a therapeutic aid, where they would sell it in bath supply shops. To attempt to generate a little publicity for the yet unknown product, a portable Jacuzzi was included in the gifts given to contestants on TV's Queen for a Day. It was pitched as relief for the worn out housewife. That is where I come in.
It was a tough day at work so I decided once I got home to grab the book I am reading and head out to the hot tub. So with towel and "Random Acts of Badness" by Danny Bonaduce in hand I head outdoors. The warm soothing jets from the hot tub were soon to bring my aching muscles back to a peaceful state of relaxation.
Speaking of the hot tub and relaxation… In July 1999, Penn Jillette from Penn and Teller fame, was granted U.S. Patent 5,920,923 for the "Jill-Jet", a hot tub jet specially angled for a woman's pleasure. He has credited Debbie Harry of Blondie for suggesting the idea to him, as the two of them were once in a hot tub and Harry made a remark about changing the jets for a woman's pleasure. Jillette liked the idea enough to pursue patent application at the USPTO under the patent title "Hydro-therapeutic stimulator". That will win you a bet some day. You're welcome.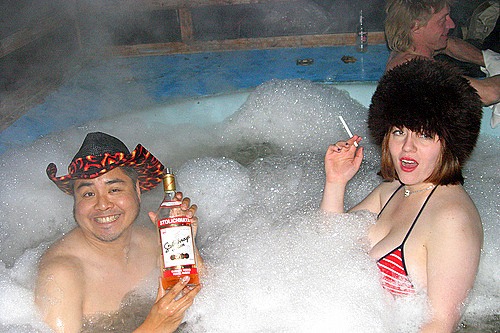 So when you are feeling tired from either playing or working too hard, grab a book…or a Blondie CD and a friend or two…and jump in the hot tub. Pretty good odds it will bring a smile.