Inspiration can come from the oddest of places, even from wild geese that fly with the moon on their wings…
When I was a little boy I used to go over to the farm of my father's brother in the summer vacations. Often times other members of the family would come to visit too. I used to love going there as not only did I get to spend quality time with family and friends, I had plenty of things to do on the farm and lots of stuff to play with, so boredom was out of the question. When we're kids, we don't have the worries we have as adults, as kids we're free so as to speak; free of responsibilities, deadlines, payments, and all the stressful things in life and that's one of the reasons that makes childhood the best time in one's life.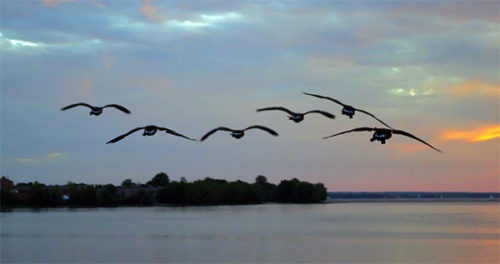 I remember one night grandpa took me to the lake which was nearby to the farmhouse. We sat near the edge and stargazed which was one of my grandpa's hobbies and I liked it as well, so it was time well spent and it was one of the best moments of my life. There were wild geese that often wandered around the lake, and on that night a few geese were present. We were immersed with our activities when we heard them honking all of a sudden and then flying in the air. The moon was out and they flew in front of it, giving off the impression that they had the moon on their wings. Personally, I found their noise hilarious so I was in hysterics.
Fast forward quite a few years later when I decided to go for a stroll in the local park. The park had a pond with a small bridge. I stood above it and looked at the moon which was shining. Suddenly I spotted a few geese and ducks flying in the distance and they flew in front of the moon, and for a second I was back in time at my uncle's farm stargazing with grandpa.
Sometimes you need to be reminded of what's important, for me it was wild geese that fly with the moon on their wings that helped remind me of those happy times. And that brought a big smile to my face.
Do you have a certain thing that triggers memories of happy events from the past? Leave a comment and share your opinion and experience. Would love to hear from you.
If you liked this or any other posts you read on 1KSmiles,
please share it with your friends using the Shareaholic buttons below.
And feel free to 'like' us on our Facebook page.