I have written about Lucky Bamboo and the luck it could bring to your home or business but there are many other uses for bamboo.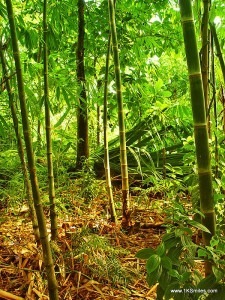 Bamboo is very interesting in many ways. Depending on who you talk to it is either grass or a tree. One thing for certain, it is a tribe of flowering perennial evergreen plants in the grass family Poaceae yet often it is specifically harvested as a tree exclusively for the wood it produces. This wood can be used for housing material as it is often more readily available than steel or other materials, can be produced faster than steel and is just as strong. But more on its' uses in architecture later.
Bamboo is some of the fastest-growing plants in the world as certain species of bamboo can grow 35 inches in a 24-hour period. That is approximately 1 millimeter (or 0.02 inches) every 2 minutes! Of course growing conditions determine rate of growth with a more typical growth rate for many common bamboo in temperate climates in the range of 3–10 centimeters or 1.2–3.9 inches per day during the growing season. Bamboo is found all around the world in diverse climates, from cold mountains to hot tropical regions. I have successfully grown it in Las Vegas! They occur across East Asia to Northern Australia, and west to India and the Himalayas. You can find variety in sub-Saharan Africa and in the Americas from the mid-Atlantic United States down south to Argentina and Chile. Continental Europe is not known to have any native species. Bamboo is a food source for the giant panda of China, the red panda of Nepal and the lemurs of Madagascar as well as mountain gorillas of Africa which also feed on it. Chimps and elephants of the region also eat the stalks. The larvae of the bamboo borer feeds off the pulp.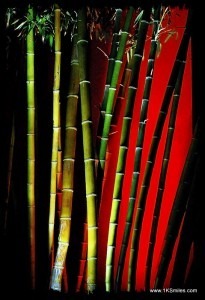 Bamboo is usually found in South Asia, Southeast Asia and East Asia and used for building materials, as a food source, and as a versatile raw product used for items like bed sheets and clothing. Still, bamboo has a higher compressive strength than wood, brick or concrete and a tensile strength that rivals steel. Like true wood, it is a natural composite material with a high strength-to-weight ratio useful for structures.
The Ibuku design team, lead by creative director Elora Hardy, is an international team of skilled artisans, architects, engineers, and designers creating homes, structures, and interiors crafted of bamboo. They have even designed and built the amazing Green Village, a master-planned community of eighteen dramatically unique homes. Each home is custom designed and rigorously engineered to embody the inherent strengths and versatility of bamboo. They are simply amazing. The things they do with the material really makes me smile. Check out this article in the Huffington Post about Green Village.
Please explore the websites for Green Village as well as Green School.
Bamboo has traditionally been used to make a wide range of everyday utensils such as chop sticks, particularly in Japan. It has a long history of use in Asian furniture. Several manufacturers offer bamboo bicycles, surfboards, snowboards, and skateboards. Bamboo is used to make clothing and bed sheets, footware and even toothbrushes and drinking straws
. I have felt bamboo bed sheets and they are as nice as any sheet you will find.
Since it grows so quickly and so densely it is often used as a barrier from the elements…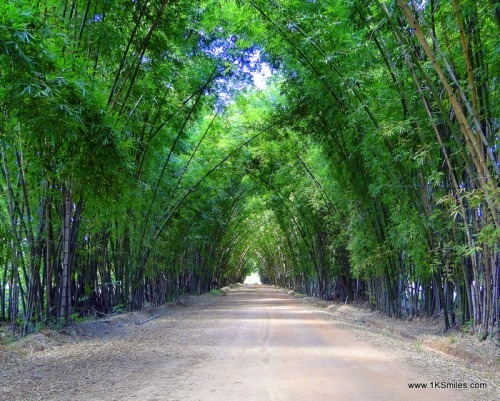 …or from the prying eyes of neighbors.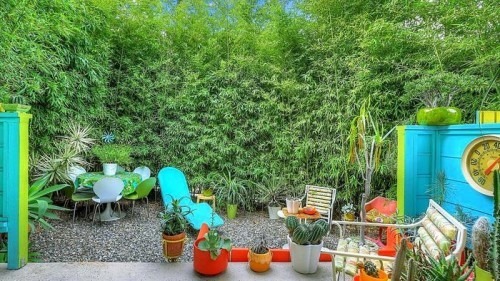 In my dream house I will have plenty of bamboo all around the yard and garden…which will always bring a smile to my face.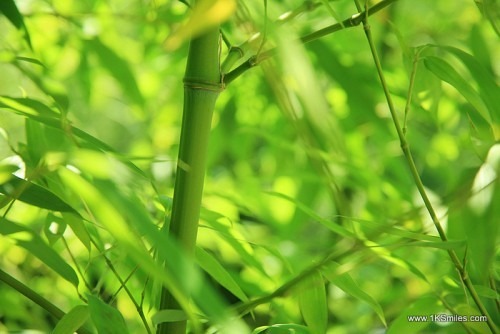 What about you? Do you have any bamboo where you live? Have you used items manufactured from it? Would you live in a house built from it? Click here to leave a comment and share your opinion and experience. Would love to hear from you.
If you liked this or any other posts you read on 1KSmiles,
please share it with your friends using the Shareaholic buttons below.
And feel free to 'like' us on our Facebook page.
Check out this Oceanstar Bamboo Cooking Utensil Set, 7-Piece on Amazon today!
List Price: $40.12
Price: $11.25 & FREE Shipping on orders over $35.
You Save: $28.87 (72%)

(price from 04/06/2015)